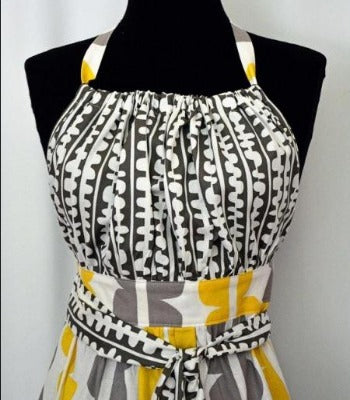 Aprons: Choose Your Own Adventure
Adult Advanced Beginner
madesewing
Ever dreamed of a magnificent apron that makes you excited to cook? Or maybe one that jazzes up your kitchen wall? The problem is, we don't all like the same type of aprons. Personally, I go with the one that has pockets. But who knows what you like! Bakers Style? Vintage frills? French Maid? It's up to you my friend! This class is meant for beginner sewist that are comfortable using a machine and would like to dip their toe into reading patterns and completing their first largish project. 

Supplies List for Aprons:
Well my friend, that depends on you. Once you sign up we will email you to connect on what type of apron you are looking to make and we can advice you from there on pattern and fabric needs. 
 ________________________________________________________________
Class Level: This class is for Adult Beginner Sewists. Previous use of a machine and a few small projects under you belt is best. 
Cancellation/Return Policy: No refunds are offered for classes or camps. Cancellations received 72 hours before class start, can be transferred to future classes/camps. Cancellations received less than 72 hours before class start or no-shows may forfeit class fees. We are unable guarantee the same class or session will be available for rescheduling. Arriving more than 30 minutes late for class may be a forfeit of class fees. COVID and other government mandated shutdowns have the same cancellation/Return policy. 
COVID-19 Precautions: Please read our following policy regarding COVID-19 HERE. As you know, these are procedures we have always had for our students. If they are ever changing and we update them continuously. We have not changed in our dedication to student safety and assure you of how seriously we are taking this epidemic and the health of our students.