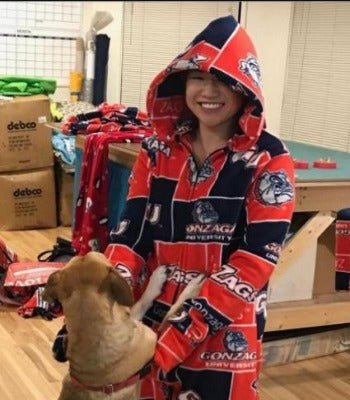 Onesies for Adults
Adult Beginner Sewing
Location: Made Sewing Studio: 124 N 103rd St. Suite A, Seattle WA 98133
So we had this class for the kids all summer and then a parent was like...um, what about big kids?! So here we go! In this class you will learn pattern cutting, instruction reading, zippers, raglan sleeves and...if you dare...hoods! Ears are option ;-)
Supplies to bring for Sewing:
3 Yards of fleece. Please pre-wash the fabric.
1/2 yard of ribbing for the sleeves and collar
20" zipper (NOT separating) 
---
Class Level: This class is for Advanced Beginners who have a good knowledge of the sewing machine.
Cancellation/Return Policy: No refunds are offered for classes or camps. Cancellations received 72 hours before class start, can be transferred to future classes/camps. Cancellations received less than 72 hours before class start or no-shows may forfeit class fees. We are unable guarantee the same class or session will be available for rescheduling. Arriving more than 30 minutes late for class may be a forfeit of class fees. COVID and other government mandated shutdowns have the same cancellation/Return policy. 
COVID-19 Precautions: Please read our following policy regarding COVID-19 HERE. As you know, these are procedures we have always had for our students. If they are ever changing and we update them continuously. We have not changed in our dedication to student safety and assure you of how seriously we are taking this epidemic and the health of our students.