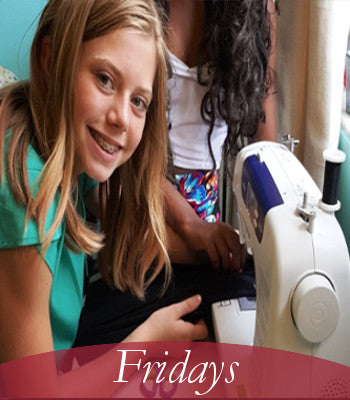 Machine Sewing (Fridays) - In Studio
Kids After School Program
Location: Made Sewing Studio: 124 N 103rd St. Suite A, Seattle WA 98133
Let's jump into the exciting world of sewing! In this club we use both our hands and our handy machines to make oodles of fun projects that may include emojis, pajamas, aprons, messenger bags, zipper totes, infinity scarves, monsters and much, much, more. On the first day of class we survey our young sewists to come up with projects that are both fun and challenging for their experience level and interest. No experience necessary and all supplies/fun will be provided.
Dates: Fridays, 10 Weeks:
Session 1: 9/22, 9/29, 10/6, 10/20, 10/27, 11/3, 11/17, 12/1, 12/8, 12/15
Session 2: TBD (January Start)
Session 3: TBD (March Start)
Time: 4:00-5:30
Age of Student: 7 and up
Classroom Location: Made Sewing Studio 124 N 103rd St, Suite A
---
Class Level: This class is for Beginner Kid Sewists ages 7 and up. No previous experience is required.
Cancellation/Return Policy: No refunds are offered for classes or camps. Cancellations received 72 hours before class start, will be able to redistribute their class fees to another class/camp. Cancellations received less than 72 hours before class start or no-shows forfeit their class fees. We are unable guarantee the same class or session will be available for rescheduling. Arriving more than 30 minutes late for class may be a forfeit of class fees, please call. Inclement weather, school and government mandated closures have the same cancellation/return policy. 
COVID-19 Precautions: Please read our following policy regarding COVID-19 HERE. As you know, these are procedures we have always had for our students. If they are ever changing and we update them continuously. We have not changed in our dedication to student safety and assure you of how seriously we are taking this epidemic and the health of our students.