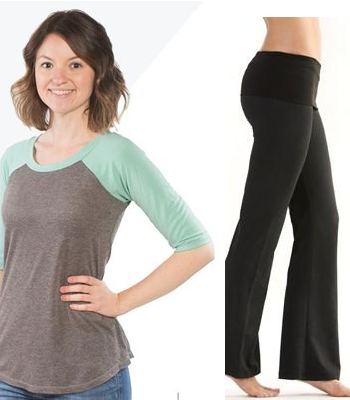 Adv. Beginner Bootcamp (Knits)
Adult Beginner Sewing
Location: Leilani Studio
Ok,  you've done some sewing, possibly our Beginner Bootcamp, and now you want more! But everyone tells your to stay away from knits because they are hard. Meh, they can be, but there are lots of tips and tricks you can learn to never fear knits again! Plus, being with other people while learning knits is like having your own support group :-) In this advanced beginner bootcamp we will tackle knits and what it is like to cut, sew and fit them with ease while completing a fun pair of yoga pants and raglan sleeve top.

Supplies Needed:
Raglan Sleeve Top: 
Main Body of Shirt: 

1yd of medium weight stretch knit

Contrast Sleeves and Neckline: 1yd of medium weight stretch knit
Yoga Pants:
Two yards of medium weight stretch knit
Please note: This class includes a short break for snacks and to relax. Feel free to bring food, water or go out and grab a snack on the break. 
---
Class Level: This class is for Adult Beginner Sewists. Previous experience using a sewing machine and completion of several projects is advised. 
Cancellation/Return Policy: No refunds are offered for classes or camps. Cancellations received 72 hours before class start, can be transferred to future classes/camps. Cancellations received less than 72 hours before class start or no-shows may forfeit class fees. We are unable guarantee the same class or session will be available for rescheduling. Arriving more than 30 minutes late for class may be a forfeit of class fees. COVID and other government mandated shutdowns have the same cancellation/Return policy. 
COVID-19 Precautions: Please read our following policy regarding COVID-19 HERE. As you know, these are procedures we have always had for our students. If they are ever changing and we update them continuously. We have not changed in our dedication to student safety and assure you of how seriously we are taking this epidemic and the health of our students.