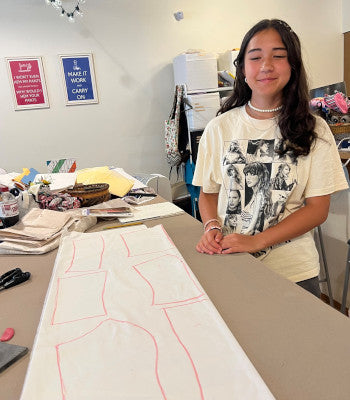 Tween/Teen Sew Your Own Adventure (6 week series)
Kid Camps
Location: Made Sewing Studio: 124 N 103rd St. Suite A, Seattle WA 98133
We've been dreaming up different ways to offer more experiences and older students that have outgrown our summer camps and aren't ready to hang with a bunch of adults in the adult classes. Last year we tried and after school club and this year we want to try something a little different, a 6 week series of classes on Sunday evenings dedicated to our tween/teen sewists and their personal passion projects!
The first day we will pick our designs and fabric. After that we spend the rest of our weeks cutting fabric, reading patterns and constructing our individual projects. A Sew Your Own Adventure! 
---
Supplies Needed For Class:
All materials are provided for this class.
---
Class Level: Students should be 12 and up (if your student is younger than 12, please email us to make sure it is the right fit for them.) Prior experience sewing is preferred but not necessary. 
Cancellation/Return Policy: No refunds are offered for classes or camps. Cancellations received 72 hours before class start, will be able to redistribute their class fees to another class/camp. Cancellations received less than 72 hours before class start or no-shows forfeit their class fees. We are unable guarantee the same class or session will be available for rescheduling. Arriving more than 30 minutes late for class may be a forfeit of class fees. COVID and any other government mandated shutdowns have the same cancellation/Return policy. 
COVID-19 Precautions: Please read our following policy regarding COVID-19 HERE. As you know, these are procedures we have always had for our students. If they are ever changing and we update them continuously. We have not changed in our dedication to student safety and assure you of how seriously we are taking this epidemic and the health of our students.