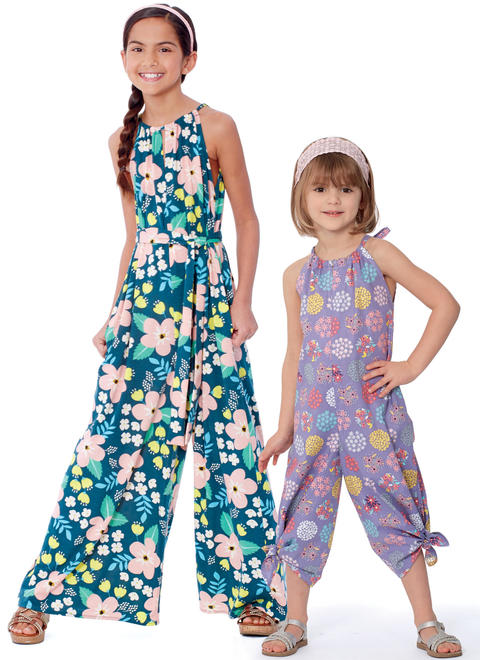 Kids Camp: Summer Rompers/Jumpsuit
Kid Camps
Location: Leilani Studio
If class is full please sign up for our waitlist. Summer plans always change and often we can get kids into classes even when they are full :-)
Last year we had so much fun making the previous style of jumper we decided to find a new one for this summer! This is the perfect little halter top romper or jumper for summer, and a great way to learn more advanced sewing like cutting fabric and reading patterns. The best part is there are two fun versions to choose from! 
---
Supplies Needed For Class:
Fabric Note 1: Make sure to not get a fabric that is too see through or thin. Thicker knits are easier to sew and give more body to the romper. :-)
Fabric Note 2: Try not to get directional fabric. For instance, if it has apples on it make sure the apples face all directions not just up (one direction).
For Short Romper - 2 yards of cotton knit or knit 

54"-60" wide fabric. 



For Long Romper - 2.5 yards of cotton knit or knit 54"-60" wide fabric. 
Also Bring:
A mask that will be worn at all times
Lunch, two snacks and a water bottle
Appropriate outdoor wear for lunch (we go out and play at the park)
---
Class Level: This class is for Beginner Kid Sewists ages 7 and up. No previous experience is required.
Cancellation/Return Policy: No refunds are offered for classes or camps. Cancellations received 72 hours before class start, will be able to redistribute their class fees to another class/camp. Cancellations received less than 72 hours before class start or no-shows forfeit their class fees. We are unable guarantee the same class or session will be available for rescheduling. Arriving more than 30 minutes late for class may be a forfeit of class fees. COVID and any other government mandated shutdowns have the same cancellation/Return policy. 
COVID-19 Precautions: Please read our following policy regarding COVID-19 HERE. As you know, these are procedures we have always had for our students. If they are ever changing and we update them continuously. We have not changed in our dedication to student safety and assure you of how seriously we are taking this epidemic and the health of our students.