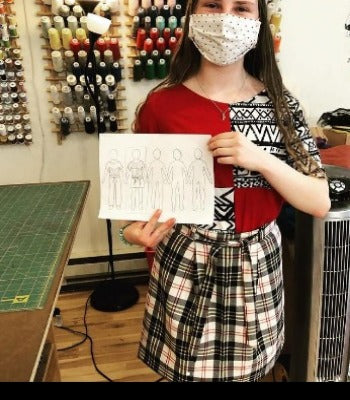 Tween/Teen Fashion Design Camp (12+)
Kid Camps
Location: Leilani Studio
You aren't the only one thinking "how did they get that old?!" After 10 years of sewing shenanigan's, it's time for many of our students to dip their toes into deeper waters. We are ready if you are! The waters are warm and clear. Let's dive in! 
This camp is a lovingly dedicated to our Fashion Camp Alumni who have graduated to more ambitious projects. Don't worry, we will have just as much fun but we will also be diving deeper into cutting our own fabric, writing our instructions down instructions for replication all while completing more complex projects. 
_______________________________________________
Day One: Design day. We search for inspiration and fabric that speaks to us. We work as a collaborative team making suggestions and helping each other to bring our visions to reality. We begin organizing and cutting our fabric. The studio is ours so we can leave it overnight in the creative mess that it will be till be come back into our workspace again in the morning. 
Day Two & Three: It's more sewing time! Each student is now on their own journey in their project but, don't worry, they are still a team. At times they will help each other with skills they already know or could learn together. At other times they are blazing their own path to complete their individual projects. 
We can't express how much fun it is to design your own outfit! This is a 3 day camp and can be taken over and over again, as long as they have the imagination, we can help them bring it to life! Students needs prior sewing experience and several garment sewing experiences under their belt. 
---
Supplies Needed For Class:
All materials are provided for this class.
Also Bring:
A mask that will be worn at all times
Lunch, two snacks and a water bottle
Appropriate outdoor wear for lunch (we go out and play at the park)
---
Class Level: Students should be 12 and up (if your student is younger than 12, please email us to make sure it is the right fit for them.) No prior experience with machine sewing is required, but very helpful.  
Cancellation/Return Policy: No refunds are offered for classes or camps. Cancellations received 72 hours before class start, will be able to redistribute their class fees to another class/camp. Cancellations received less than 72 hours before class start or no-shows forfeit their class fees. We are unable guarantee the same class or session will be available for rescheduling. Arriving more than 30 minutes late for class may be a forfeit of class fees. COVID and any other government mandated shutdowns have the same cancellation/Return policy. 
COVID-19 Precautions: Please read our following policy regarding COVID-19 HERE. As you know, these are procedures we have always had for our students. If they are ever changing and we update them continuously. We have not changed in our dedication to student safety and assure you of how seriously we are taking this epidemic and the health of our students.