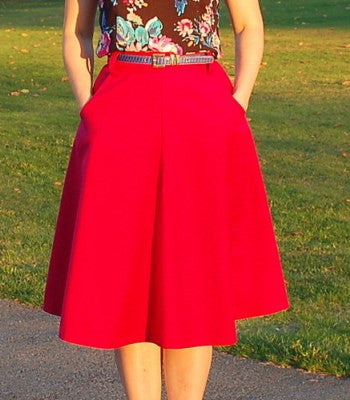 Tween/Teen Camp: Circle Skirt with Pockets
Kid Classes
Location: Made Sewing Studio: 124 N 103rd St. Suite A, Seattle WA 98133
Especially for advanced beginners, this is the perfect flared skirt to get your started with garment sewing! This skirt is a great wardrobe essential...hello back to school! It sits right at the waist for maximum figure flattery, and features super practical pockets all with the twirl of a full skirt. In this class kids get to experience a new level of sewing by cutting their own fabric and learning pattern reading, zippers and much more.
This class is meant for Tween/Teen sewists (12 and up)
Supplies Needed For Class:
Skirt:
Please note that there are two different width options for garment fabrics. Aside from side there is no difference between them but it will change how much you will need to purchase.
If you get 45"/45" wide fabric:
If you get 58"60" wide fabric:
Recommended Fabrics: You want non-stretch fabric that isn't too transparent. Light or medium weight woven fabrics such as cotton poplin and lawn, lightweight denim, and suiting fabrics are suggested. Please do not get stretch, knit or slippery fabric as they are very hard to sew and not meant for this type of pattern. We do not recommended stripes or one way designs. PLEASE WASH/DRY your fabric before class. 
Other:
1 yard of fusible interfacing
9" regular zipper
Also Bring:
A mask that will be worn at all times
Lunch and any other snacks or drinks
Appropriate outdoor wear for lunch (we go out and play at the park)
---
Class Level: Students should be 12 and up (if your student is younger than 12, please email us to make sure it is the right fit for them.) No prior experience with machine sewing is required, but very helpful.  
Cancellation/Return Policy: No refunds are offered for classes or camps. Cancellations received 72 hours before class start, will be able to redistribute their class fees to another class/camp. Cancellations received less than 72 hours before class start or no-shows forfeit their class fees. We are unable guarantee the same class or session will be available for rescheduling. Arriving more than 30 minutes late for class may be a forfeit of class fees. COVID and any other government mandated shutdowns have the same cancellation/Return policy. 
COVID-19 Precautions: Please read our following policy regarding COVID-19 HERE. As you know, these are procedures we have always had for our students. If they are ever changing and we update them continuously. We have not changed in our dedication to student safety and assure you of how seriously we are taking this epidemic and the health of our students.