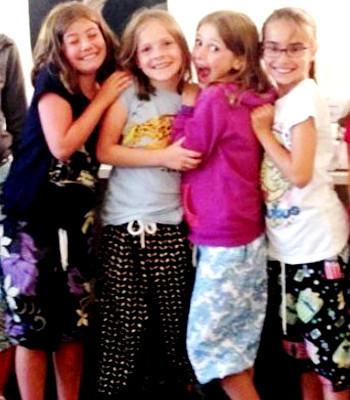 Kids Camp: Nightgowns or Pj Pants
Kid Camps
Location: Leilani Studio
As I'm sure you have guessed, we love pjs! While chatting with the kids last week I was asked "why no nightgowns?" So here we are, making a super cute and comfortable nightgown OR a super comfortable pair of cozy pjs, it's a win-win! In this class we will learn oodles about sewing with the sewing machine and garment construction. A great class for beginners and no experience necessary.
If we have enough time we will have a little PJ party! We'll get cozy in our new outfits and watch a fun movie at last snack together. A perfect day! 
---
Supplies for EITHER project (you are only making one):
2 1/2 yards of cotton, please, no stretch fabric. If you can, wash the fabric before class
Also Bring:
A mask that will be worn at all times
Lunch, two snacks and a water bottle
Appropriate outdoor wear for lunch (we go out and play at the park)
---
Class Level: This class is for Beginner Kid Sewists ages 7 and up. No previous experience is required.
Cancellation/Return Policy: No refunds are offered for classes or camps. Cancellations received 72 hours before class start, will be able to redistribute their class fees to another class/camp. Cancellations received less than 72 hours before class start or no-shows forfeit their class fees. We are unable guarantee the same class or session will be available for rescheduling. Arriving more than 30 minutes late for class may be a forfeit of class fees. COVID and any other government mandated shutdowns have the same cancellation/Return policy. 
COVID-19 Precautions: Please read our following policy regarding COVID-19 HERE. As you know, these are procedures we have always had for our students. If they are ever changing and we update them continuously. We have not changed in our dedication to student safety and assure you of how seriously we are taking this epidemic and the health of our students.