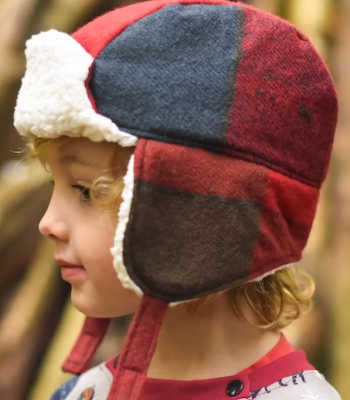 Kids Camp: Aviator/Trapper/Logging/ Whatever It's Called Hat
Kid Classes
Location: Made Sewing Studio: 124 N 103rd St. Suite A, Seattle WA 98133
Upon extensive...ok, medium research, this type of hat has A LOT of different names. Similar looks, different names. So, in this class we will be making this lovely hat with ear flaps and turned up brim! Call it a hunters hat, trappers hat, aviator hat, logging hat or a hat with ears, we don't care, let's just sew! This warm hat is just right for our old Seattle days. An outside of flannel and an inside of shearling, fleece or fur is right up our alley to keep it fashionable and warm this year. Heads up (pun intended) this bad boy could, maybe, be reversible...shush...don't tell.
__________________

To Bring:
      Outside (Main) Fabric:
1/2 yard flannel or cotton fabric. (Something lighter weight and not stretchy if possible)
      Inside (Warm) Fabric:
1/2 yard of fleece, shearling or fur. (Something warm)
Word of caution on fabric! Please, do not choose thick fabric for both the outside and inside fabric. It will be A: too hard to sew and B: too warm. We want to make sure the kids will actually wear them and, trust me, they won't if it's too thick/warm. 
---
 Class Level: This class is for Sewists ages 7 and up. No previous experience with a machine is required.
Cancellation/Return Policy: No refunds are offered for classes or camps. Cancellations received 72 hours before class start, will be able to redistribute their class fees to another class/camp. Cancellations received less than 72 hours before class start or no-shows forfeit their class fees. We are unable guarantee the same class or session will be available for rescheduling. Arriving more than 30 minutes late for class may be a forfeit of class fees. COVID and any other government mandated shutdowns have the same cancellation/Return policy. 
COVID-19 Precautions: Please read our following policy regarding COVID-19 HERE. As you know, these are procedures we have always had for our students. If they are ever changing and we update them continuously. We have not changed in our dedication to student safety and assure you of how seriously we are taking this epidemic and the health of our students.