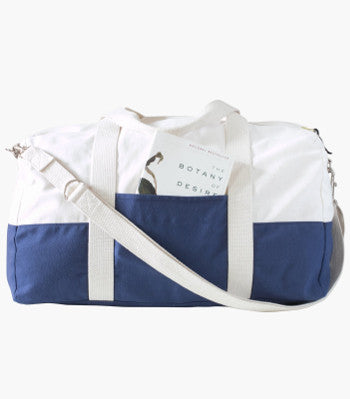 Accessories: The Portside Duffle
Adult Intermediate Sewing
Location: Made Sewing Studio: 124 N 103rd St. Suite A, Seattle WA 98133
To say that we are obsessed with this duffle is taking it lightly. I want one in ever color I can possibly find! The Portside Travel Duffle (and set if you are super ambitious) features everything you need to tote your handmade garments around proudly! This duffle is perfectly sized for a long weekend (or week if you're a light packer). Duffle features handles which can be carried or slung over the shoulder as well as a removable adjustable shoulder strap, and fully lined! 
Please Bring:

Purchase and bring the pattern printed and taped together, from Portside Travel Set from Grainline Studio
Please look at the pattern and for what materials to bring with you. We do have kits of hardware if you would like to purchase them all together from us, but would need to know a week in advance. :-)
---
 Class Level: This class is for Adult Intermediate Sewists. Previous experience with machine sewing, several completed sewing projects and some pattern reading is required. Please email us if you are concerned you may not be at the right level for this class.
Cancellation/Return Policy: No refunds are offered for classes or camps. Cancellations received 72 hours before class start, will be able to redistribute their class fees to another class/camp. Cancellations received less than 72 hours before class start or no-shows forfeit their class fees. We are unable guarantee the same class or session will be available for rescheduling. Arriving more than 30 minutes late for class may be a forfeit of class fees. COVID and any other government mandated shutdowns have the same cancellation/Return policy. 
COVID-19 Precautions: Please read our following policy regarding COVID-19 HERE. As you know, these are procedures we have always had for our students. If they are ever changing and we update them continuously. We have not changed in our dedication to student safety and assure you of how seriously we are taking this epidemic and the health of our students.