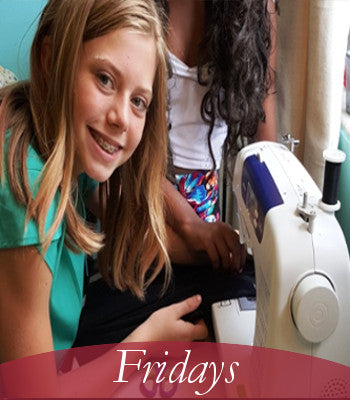 Teen/Tween Sewing 10wk/Series (Fridays)
Kids After School Program
Location: Made Sewing Studio: 124 N 103rd St. Suite A, Seattle WA 98133
Teens and Tweens, this is just for you! In this class we will teach you all the basics of sewing. From basic skills like threading your machine to more advanced skills such as pattern cutting, pattern reading, alterations, new fabrics and completing a variety of fun projects. Each student will work on their own project that they personally choose. The first week we will talk about choosing designs, finding patterns, how to choose fabric that lends itself to both our pattern as well as the style we are wanting to create. The second week we work on reading patterns and cutting our fabric out as a group. After that, it's off to the races and each child will go at their own pace with both their teachers and their peers. It's time to take off to the next sewing adventure! 
Please note that this is for intermediate to advanced students who have taken multiple MADE classes and are very comfortable with using the machine and making projects. 
Day: Fridays: 10 weeks
Session 1: September 30th - December 9th (No Class Thanksgiving Week)
Session 2: January 20th - March 31st (No Class Week of February 20th-24th)
Session 3: April 21 -June 23rd
Time: 4:00-6:00 (2hrs)
Age of Student: 12 and up 
Classroom Location: Made Sewing Studios (124 N 103rd St, Suite A)
---
Supplies Needed For Class:
All materials are provided for this class.
Also Bring:
A mask that will be worn at all times within the studio
Cancellation/Return Policy: No refunds are offered for classes or camps. Cancellations received 72 hours before class start, will be able to redistribute their class fees to another class/camp. Cancellations received less than 72 hours before class start or no-shows forfeit their class fees. We are unable guarantee the same class or session will be available for rescheduling. Arriving more than 30 minutes late for class may be a forfeit of class fees, please call. Inclement weather, school and government mandated closures have the same cancellation/return policy. 
COVID-19 Precautions: Please read our following policy regarding COVID-19 HERE. As you know, these are procedures we have always had for our students. If they are ever changing and we update them continuously. We have not changed in our dedication to student safety and assure you of how seriously we are taking this epidemic and the health of our students.