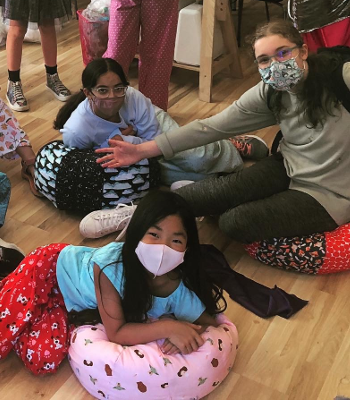 Kids Camp: PJ Party! PJ Bottoms & Floor Pillows
Kid Camps
Location: Made Sewing Studio: 124 N 103rd St. Suite A, Seattle WA 98133
If class is full please sign up for our waitlist. Summer schedules are always in flux so we often have students that switch to other camps opening up spots in previously full camps. :-)
Nothing says "Party" like a snazzy pair of comfy PJ Bottoms, and of course, a fabulous floor pillow to rest our feet or head upon! In this class the kids will learn the basics of using the sewing machine while make a new pair of pajama bottoms as well as the ever so awesome gumdrop pillow (a large fluff ball of wonderfulness they can use in their room or living room). And of course the class wouldn't be complete without a little impromptu pj party!  This is certainly one of those classes that can be taken over and over (they grow so fast, don't they?!) So feel free to send your new or experienced sewists to class, all levels are welcome.

---
Day One: PJ Bottoms and Sewing Machine Basics.
On Day one we start making our PJs and learning how to use the sewing machines
Day Two: Floor Pillows and Party Time!
On Day Two we finish our PJs and construct our floor pillows. While hand sewing the last part of our pillows we will watch a movie and eat popcorn. Nothing like putting the party in pj party! 
Supplies to bring:
-   2 1/2 yards of cotton, please, no stretch fabric. Please wash the fabric before class
-  2 yards of cotton, please, no stretch fabric OR 1 yard of two different cotton fabrics and we can alternate the colors.
-  2 bag of 32oz fiber fill
Also Bring:
A mask that will be worn at all times
Lunch, two snacks and a water bottle
Appropriate outdoor wear for lunch (we sometimes go to a nearby park)
---
Class Level: This class is for Beginner Kid Sewists ages 7 and up. No previous experience is required.
Cancellation/Return Policy: No refunds are offered for classes or camps. Cancellations received 72 hours before class start, will be able to redistribute their class fees to another class/camp. Cancellations received less than 72 hours before class start or no-shows forfeit their class fees. We are unable guarantee the same class or session will be available for rescheduling. Arriving more than 30 minutes late for class may be a forfeit of class fees, please call. Inclement weather, school and government mandated closures have the same cancellation/return policy. 
COVID-19 Precautions: Please read our following policy regarding COVID-19 HERE. As you know, these are procedures we have always had for our students. If they are ever changing and we update them continuously. We have not changed in our dedication to student safety and assure you of how seriously we are taking this epidemic and the health of our students.