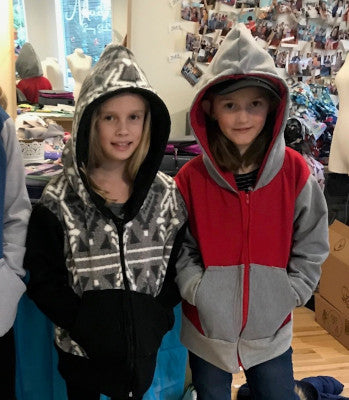 Kids Camp: Zip Up Hoodie Sweatshirt
Location: Made Sewing Studio: 124 N 103rd St. Suite A, Seattle WA 98133
We he had our Pullover Hoodie class for several years and I thought, let's mix this baby up! This year we are adding a little twist by changing it from a pullover to a zip up! I'm super excited about this because learning zippers can be quite daunting for our kiddos and I want to take the mystery out of the zipper and the knowledge into their heads. In this camp the kids will learn to make a sweatshirt with a hood, zipper and super cute side pockets. Just what every Seattleite needs in life…well that and sunshine…. but I'm betting on the hoodie coming first. This class is meant for kids who have experience sewing with a machine.
Supplies Needed For Class:
Main Fabric: 1.5 yards of fleece, sweater knit (medium to heavy weight) or medium weight knit (no thin knit fabric, please)
Contrast Fabric (Sleeves): 1.5 yards of fleece, sweater knit (medium to heavy weight) or medium weight knit (no thin knit fabric, please)
Ribbing (sleeves, neckline and bottom): 1/2 yard
20 inch

 

separating

 zipper ( this means he can come apart)
Also Bring:
A mask that will be worn at all times
Lunch, two snacks and a water bottle
Appropriate outdoor wear for lunch (we sometimes go to a nearby park)
---
Class Level: This class is for Advanced Beginner Kid Sewists ages 8 and up. Previous experience with a sewing machine 
Cancellation/Return Policy: No refunds are offered for classes or camps. Cancellations received 72 hours before class start, will be able to redistribute their class fees to another class/camp. Cancellations received less than 72 hours before class start or no-shows forfeit their class fees. We are unable guarantee the same class or session will be available for rescheduling. Arriving more than 30 minutes late for class may be a forfeit of class fees, please call. Inclement weather, school and government mandated closures have the same cancellation/return policy. 
COVID-19 Precautions: Please read our following policy regarding COVID-19 HERE. As you know, these are procedures we have always had for our students. If they are ever changing and we update them continuously. We have not changed in our dedication to student safety and assure you of how seriously we are taking this epidemic and the health of our students.